There are no limitations, just limited stories
You've come to the right place if you


want to feel more alive, connected,




and in love with yourself and life





crave more satisfaction, fulfillment,




and a purposeful happy life





want to mindfully choose thoughts




that create conditions within for




physical comfort and healing





are ready to leave behind old




realities and attachments to beliefs


that don't work and cause pain
and unwanted conditions


Are you ready to move
forward with ease,
lightness, and joy?




We can all use extra help


You can be a positive soul and thrive
in different parts of your life, but still
struggle
We can be so up close and personal it
can be hard to have an objective
perspective
Or because we have thought the same
way for so long, it can be hard to
move past our ruts
Maybe

-an event, like a death, divorce,
a chronic illness, diagnosis of cancer,
or a financial crisis has thrown you
into a negative tailspin

-an addiction or bad habit, or just
the struggles of daily life have gotten
a hopeless mentality in motion

-a condition you've lived with for
so long seems unchangeable



Our thoughts can improve our
health, raise our happiness,
lead to better relationships,
and result in goals and


dreams achieved




I use my intuitive skills to help
you tap into your inner guidance.

I guide you to higher truths that
awaken your wisdom and bring
your knowledge to your aware-
ness

I use the most potent tools
available to humanity, hypnosis
and meditation, to help you melt
your fears and resistance
and tap into your brilliance,
healing powers and potential
within!


I work with clients online, by
phone and in-person

Let me support you in your


Mental Well-Being





Health Improvement & Pain Issues





Bad Habits & Addictions





WeightLoss, Self-Care & Love





Relationships





Success, Goals & Big Dreams





Explorations & Higher States






Testimonial for
Mastery of Joy Package
"I was diagnosed with
Ankylosing Spondylitis
about eight years ago
and have been on many
different medications over
the years.
I tried diets and herbs
over the years as
well as acupuncture.

Nothing was giving
me relief except
the medication that
left me with stomach
problems and a
drugged feeling.
Hypnosis changed my
life in a number of
ways.
My objective was to help
relieve pain I was having
in my spine.
I started to see results
after my first visit.
As I continued the
results grew stronger
and stronger.
The first thing I noted I
was not thinking about
the pain so much. These
were the building blocks
I needed to progress
away from an
'incurable illness'.
Eventually, I was able
to quit taking most of
the drugs we thought
I had to take to control
the disease, as well as
quit the painkillers.
Being off the medications
is a huge leap forward,
having energy is
priceless.
Now I am back to work
for the first time in
years doing what I
thought I would never
be able to do again ...
Dan Wilson
Garden Valley, ID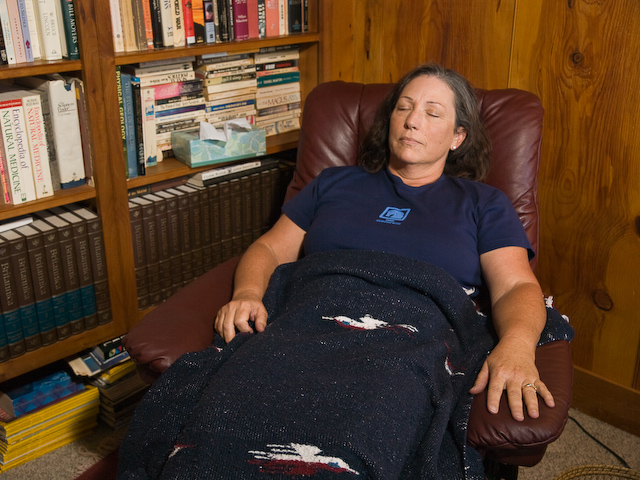 Photos by Kari Greer @ kariphotos.com
Be sure to sign-up for Svenson Hypnosis
Newsletter and receive your free
meditations
Andrea talks about how supportive
Sharon's recording Go Deep With Sleep
has been in blessing her with a good
night's sleep